It's a classic tale of David vs. Goliath. The large corporation with all of the trimmings you'd expect from that kind of operation (Verizon). Against the plucky upstart with a chip on their shoulder about their unbeatable prices for the little guy (Mint). Today we'll take a look at Verizon vs. Mint on the issues that matter most to the average family or single user out there. Here's are the facts and comparisons between Verizon and Mint:
Plans & Pricing WINNER: Mint Mobile

Coverage & Reliability WINNER: Verizon Wireless

Data & Other Features WINNER: Mint for Cheap Unlimited, Verizon for Family

OVERALL WINNER: Verizon (if you're good for it)
Cheaper Plans


✔ Incredible Prices
✔ T-Mobile Backed
✔ Pre-Paid Only



Coverage & Features


✔ Most Features
✔ Best Coverage
✔ Higher Prices


Mint vs. Verizon: Plans & Pricing
Let's start out with a win for Mint Mobile. This is their main draw and appeal in the cell phone carrier world. Depending on the deals at any given time, you can sign up for Mint for Three Hamiltons (that's $30, sorry). Verizon isn't going to compete with that price point and we have to give the win to Mint Mobile here, hands down.
Mint's plans are all pre-paid (and Verizon offers some of those too). This means that you pay for a certain amount of Data per month beforehand, whereas Verizon customers are usually billed at the end of the month. We find Mint's plans to be nice and flexible but Verizon has the win on fully featured plans.
If the overall price tag of your mobile plan is far and away your biggest issue and you're trying to decide between Mint and Verizon, check out the latest Mint deal and brag to your friends about how much you're saving:
Mint vs. Verizon: Coverage
It's tough to beat Verizon's network. It's often, if not always voted "Best Network" for coverage. They have access to the most towers and are able to serve rural as well as urban folks better than anyone. Now, when we say that, we're talking small percentages of gaps here and you very well might get better coverage on AT&T or T-Mobile depending on what your exact location is, so your milage may vary.
Mint actually rides on T-Mobile's network which it's now safe to say, is the nation's 2nd best network so it's no slouch by any means. That being said. Traditionally, Verizon's network has stayed king. Check out the coverage maps for both Mint and Verizon here:

Verizon Coverage Map (click Map to Interact)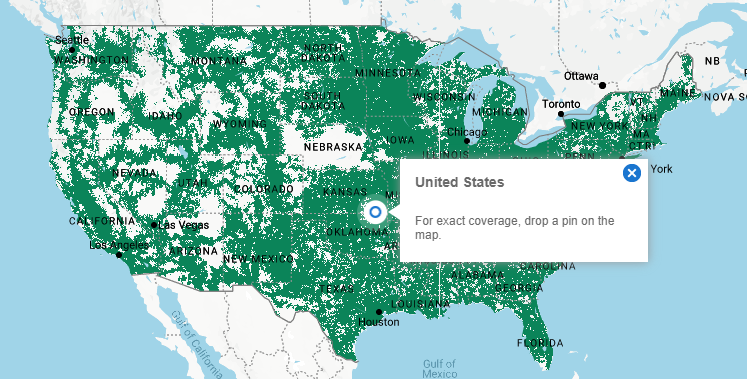 Mint Coverage Map (click Map to Interact)
Mint vs. Verizon: Data & Other Features
Mint Mobile runs on T-Mobile's network. Data transmission to cell phones often takes place on the same towers and physical network no matter which cell phone carrier you're using. In this case there is little difference between Mint and Verizon's data speeds as best we can tell in our research.
As far as the amount of data you can transfer. We think Verizon is a bit stingy with the 10GB plan starting at $65 and Unlimited not kicking in until about $70 last time we checked. That's more than double Mint's $30 Unlimited plan on an arguably similar data network depending on where you live.
Verizon has a great family plan system where adding a line isn't breaking the bank. Mint's individual plans will still save you a ton of money, even without a family discount but perhaps if you're considering four or five lines you might want the reliability of Verizon's coverage.
It's a tough call but we give the edge to Verizon for their family plans and more developed network (both in terms of support and their telecom infrastructure).
Verizon vs. Mint: Which is Better for You?
There are people out there who would save a TON of money by switching or starting on Mint Mobile and they wouldn't notice a thing in terms of reliability. Depending on where you live, it makes sense to ask people who live and work around you how they've gotten coverage on Mint around the city.
There's a ton of value in going with the seasoned veteran (Goliath) here with some great family plans on the best (most expensive) network out there. But that Mint Mobile discount might just be calling your name. Check out their latest plans now and we hope we've helped you decide between Mint and Verizon.
Cheaper Plans


✔ Incredible Prices
✔ T-Mobile Backed
✔ Pre-Paid Only



Coverage & Features


✔ Most Features
✔ Best Coverage
✔ Higher Prices