to 
Overview: If you're looking for the best cell phone plans in your city, the below guide should help you figure out how to set a proper list of criteria to determine what wireless carrier you should choose for your next wireless plan.
Introduction: It's rare that once someone signs up for a new cell phone plan that they'll make a switch anytime in the next decade. With this in mind, choosing a new wireless plan to fit your needs is more important than ever, as the hassle of switching can sometimes act as a deterrent to shopping around after you've signed up for a new plan.
Our goal with this guide to selecting the best cell plan for your needs is to help you determine what factors are most important to you and with those things prioritized, how to shop with that criteria in mind.
How to choose what's most important for you with a new cell phone plan
There are several key criteria to consider when choosing a plan. In no particular order, the ones most people consider most important are the following:
Monthly price – This is how much you will be responsible for paying on a monthly basis for a cell phone plan. This can sometimes include the price of the phone averaged out over the length of the contract.
Cost of a new phone – Most people will get a new phone when they sign a new plan. The cost of the phone can sometimes be an upfront cost or be averaged out over the length of the cell service plan's contract.
Network reliability – This will be how reliable your data and cellular plans will have in the places you spend the most time. Good network reliability is important for making sure you can actually use your cell phone in your city or region or wherever you commonly travel.
5G rollout – The next big thing in wireless plans if having a big 5G network. Most wireless carriers have a plan to roll out 5G in the coming years, but some are further along than others for those that want it now.
Pre-pay options, budget flexibility – Some plans will have pay-as-you-go style payment plans, others will be a monthly minimum with extra costs as usage goes up. It's important to have a firm grasp on what cell phone plans will ultimately fit your budgetary needs.
Fees – The unfortunate reality is that all cell phone plans have fees tacked into the bills. It's important to make sure you understand what fees you will pay each month.
Contract terms – You'll want to decide how important contract flexibility is for you and your needs. If you know you'll keep the same plan for a while, it makes sense to sign a long-term contract in exchange for discounts. If you think flexibility is important, you will want to make sure your plan is not under strict contract lockdown.
How to compare wireless plans
Here at GammaWire, we have a growing list of comparisons of different wireless plans, meaning if you're having trouble determining which cell phone plan is right for you, we'll have a breakdown of the benefits and shortcomings of each plan.
Or read our mobile provider reviews and view their coverage maps here:
AT&T Wireless Review & Overview
Mint Mobile Wireless Review & Overview
Boost Mobile Wireless Review & Overview
How to check wireless plan network availability
Most wireless providers have made handy maps (updated 2023). It's important to make sure that wherever you are planning on spending the most time has rock solid coverage in order to prevent outages and lack of cell service when you need it most. We've got maps for the big three wireless providers below. If you travel to or are living in another country like Mexico, you'll need to take a look at additional maps for those countries. You should have coverage in Canada and Mexico's major cities!
Verizon coverage map:

AT&T coverage map: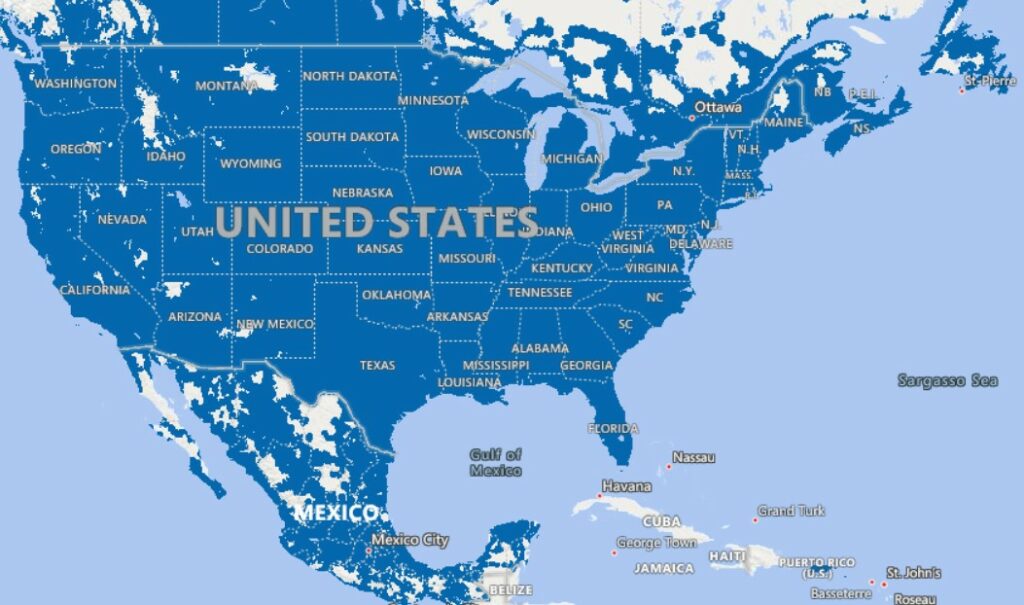 T-Mobile coverage map: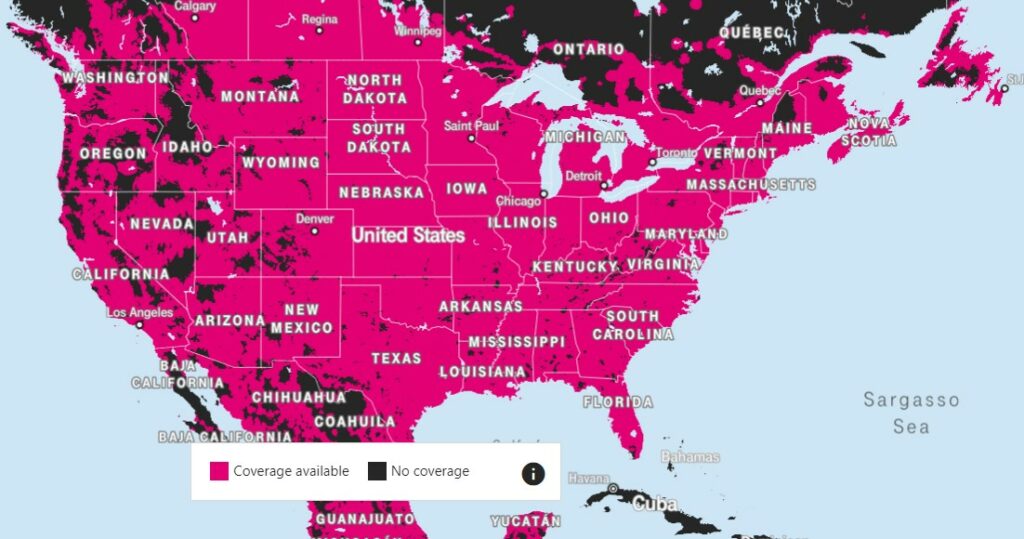 What's the best wireless carrier in your city
If you're looking for a city-by-city breakdown of the top performing cell phone plans in your specific city, check out our list of comparisons below. We dive deep for dozens of major US cities, and are always adding more, so if you don't see your city, check back soon and we'll probably have it:
| | | |
| --- | --- | --- |
| Dallas, TX | Austin, TX | Spokane, WA |
| Baltimore, MD | Boston, MA | Charlotte, NC |
| Chicago, IL | Columbus, OH | Denver, CO |
| Kansas City, MO | Los Angeles, CA | Miami, FL |
| New York, NY | Philadelphia, PA | Pittsburgh, PA |
| Raleigh, NC | San Antonio, TX | San Francisco, CA |
| Seattle, WA | Washington, D.C. | Albuquerque, NM |
| Louisville, KY | Milwaukee, WI | Memphis, TN |
| Jacksonville, FL | El Paso, TX | Indianapolis, IN |