Boost Mobile is an up and coming carrier that specializes in their pre-paid wireless plans. In fact, you can ONLY get pre-paid plans through Boost and that might appeal to you since you'll get exactly what you pay for and won't have to lock yourself in to a yearly or monthly commitment.
Compared to Verizon, though, Boost is missing some features you'll probably want in your modern provider. You'll also pay for those features and bonuses so we'll leave it to you to decide which matters more for your family between Boost's value and Verizon's big-carrier trimmings.
Plans & Pricing WINNER: Verizon Wireless

Coverage & Reliability WINNER: Verizon Wireless

Data & Other Features WINNER: Verizon Wireless

OVERALL WINNER: Verizon
Cheap, Simple Plans


✔ Super Cheap Plans
✔ No Contract
✔ Pre-Paid Option



Coverage & Features


✔ Most Features
✔ Best Coverage
✔ Higher Prices


Boost vs. Verizon: Plans & Pricing
If you've read through any of our other carrier comparisons you'd notice that we often give the "plans and pricing" win to the budget or discount carrier. As much as we respect Boost as a mobile carrier for some folks who want pre-paid, their prices just aren't low enough to call them a major discount when compared to Verizon. Even their cousin, T-Mobile has better "value" plans with more features at a very, very similar price point. We're giving the win to Verizon's discount plans as being a bit more expensive, but not enough to give Boost the win here:
Boost vs. Verizon: Coverage
Verizon's network is oft voted "Best Network" for coverage. If you're looking for the most rock-solid coverage in rural areas and the most expansive 5G access in the business, a network like Verizon's is what you need.

Verizon Coverage Map (click Map to Interact)
Boost's network is actually akin to T-Mobile's now so you've actually got pretty decent coverage from Boost these days. Check out the maps below because T-Mobile still isn't known for covering rural areas as well as AT&T or Verizon does.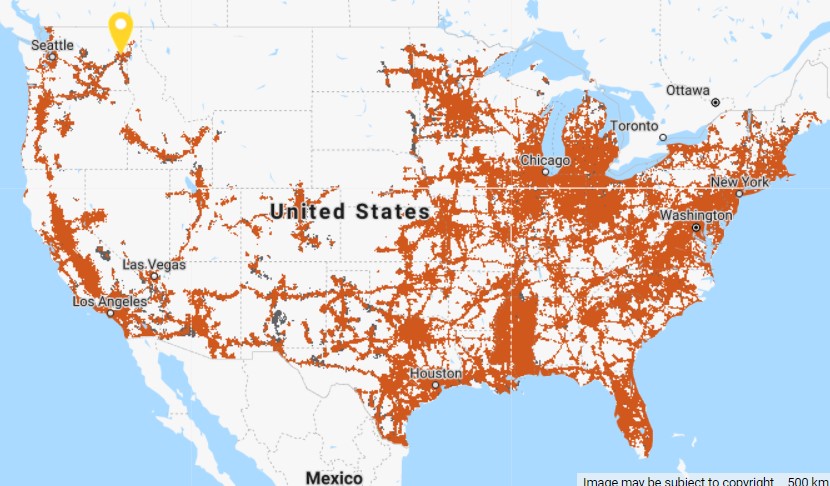 Boost Coverage Map (click Map to Interact)
Boost vs. Verizon: Data & Other Features
Verizon has the advantage over Boost in terms of Data access and other features. With Verizon, most plans come with Disney+ and ESPN and Hulu streaming channels for free right now! That's a big bonus, especially if you can cancel your current subscriptions you have already to save.
Boost prides itself in offering a hot spot and other features for a low price point. If you're looking for a simple, pre-paid plan with a feature like a Hot Spot for work, Boost might save you a few bucks. To you, pre-paid might be the only feature you want! Verizon also has pre-paid plans for what it's worth but Boost specializes in this:
Boost vs. Verizon: Which is Better for You?
If you're a family of four using a ton of data, streaming shows all day and need those Unlimited streaming GB, Verizon is the more expensive, but overall better value needed for you. Boost on the other hand could fit the bill for you if you're a "I just want to pay for what I use!" kind of mobile user. Perhaps a single person on a plan in an urban area who needs a hot spot but wants to pay less than $40 a month? Try Boost.
Cheap, Simple Plans


✔ Super Cheap Plans
✔ No Contract
✔ Pre-Paid Option



Coverage & Features


✔ Most Features
✔ Best Coverage
✔ Higher Prices