AT&T has been around since the vast majority of us were either not born or still watching Saturday morning cartoons on wooden console televisions. Mint Mobile has been a player in the mobile market for barely six years but has already attracted the attention of spokesman and majority shareholder Ryan Reynolds. When you're comparing cell service, do age and maturity win? In most cases, yes, But, although AT&T is a great company, Mint is a little more flexible and might be an appealing option for those of us not ready to commit. Here's an apples-to-apples comparison of the two popular cell phone service providers.:
Plans & Pricing WINNER: Mint Mobile

Coverage & Reliability WINNER: AT&T

Data & Other Features WINNER: AT&T

OVERALL WINNER: AT&T or Options, Mint for Affordability
Cheaper Plans


✔ Incredible Prices
✔ T-Mobile Backed
✔ Pre-Paid Only



Solid Unlimited

✔#1 for Unlimited
✔ Great Coverage
✔ Higher Prices


Mint vs. AT&T: Plans & Pricing
If you're looking for a basic, no-frills phone plan and use four gigabytes of data or less each month, Mint Mobile is virtually untouchable. As of this writing, an individual phone line with unlimited talk and text and four gigs of 4G or 5G data falls in at a very budget-minded $15 per month. A similar option from AT&T is a less bank-account-friendly $50 per month.
If you have a family and everyone needs phones, the pricing gap is much less. For four lines on an unlimited plan with nationwide coverage, you are looking at around a $5 per month difference between the two carriers. Mint Mobile still carves out a win in this category, however, with AT&T charging more for similar services. One thing AT&T does have in the green column here is that you can pay your phone bill every month for the same price. Mint wants you to pay in chunks of three or 12 months, which may be cost-prohibitive to some.
*Prices, plans, and availability change often – check each service provider's website for the most current information.
Mint vs. AT&T: Coverage
Where coverage is concerned, Mint doesn't even come close. Although Mint Mobile piggybacks off of the T-Mobile network, coverage is spotty throughout a good chunk of the Midwest the West Coast. AT&T owns its own network and boasts fairly consistent coverage throughout the US as well as parts of Canada and Mexico. Both mobile network providers offer coverage in Puerto Rico, so if you're planning to head south for vacation, you're good to go.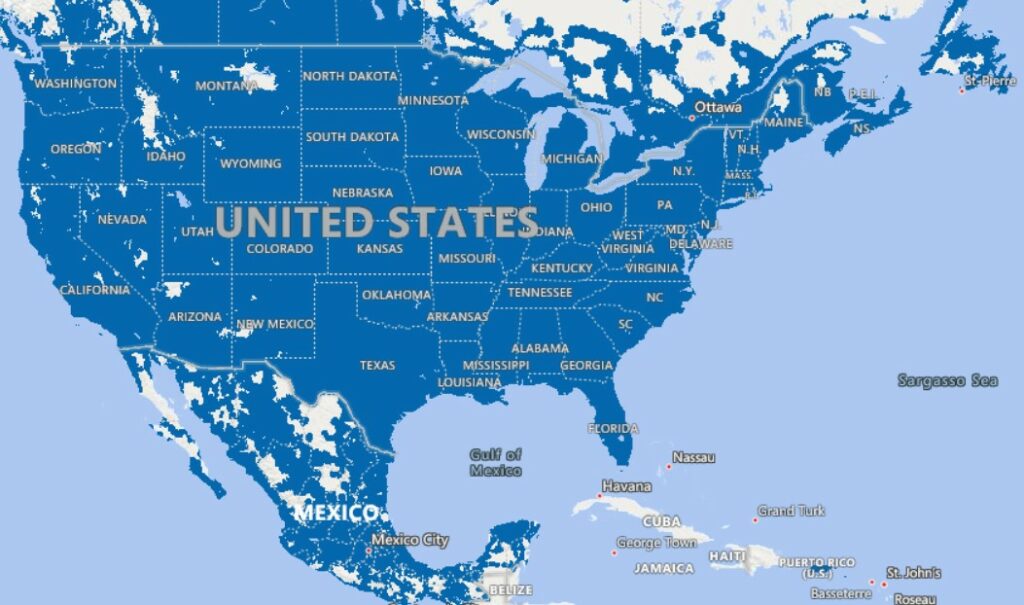 ATT Coverage Map (click Map to Interact)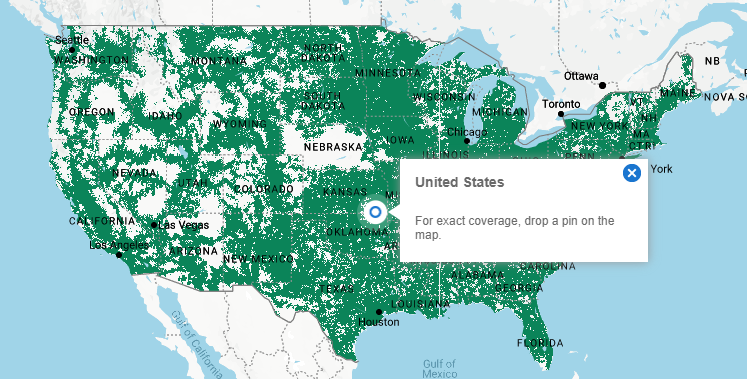 Mint Coverage Map (click Map to Interact)
Mint vs. AT&T: Data & Other Features
When data is your bread and butter, AT&T has a much more generous selection of data plans. Where Mint's Unlimited option doesn't charge overages, your speeds are reduced at just 35 GB. AT&T's Unlimited Extra (its middle-tier unlimited option) doesn't start dragging until after 50 gigs and, with the Unlimited Elite plan – currently $85 per month for an individual or $50 per month per line for a family of four – you get 100 gigs of quickness before data temporarily slows.
Other features to consider include mobile security, the availability of high-definition streaming, and discounts. With AT&T, Signature Program members – people in the Armed Forces, education, or other specific service industries – get $10 off per month on some plants. AT&T also offers standard and advanced mobile security, including fraud call blocking, identity monitoring, and more. Mint's website is sketchy on its available security features.
The availability of devices is also something to take a look at, and you want to check your preferred provider's website for what's new and in-stock when you are ready to make a switch.
Mint vs. AT&T: Which is Better for You?
So, here we are, at the million-dollar question. Between AT&T and Mint Mobile, which is the best carrier for you? While we've given the edge to AT&T in most areas, only you can decide what's most important. If you simply need a way to communicate with your friends and family, you can save big by going with one of the lower-priced options via Mint. But, if you travel the country and tend to stream your entertainment, AT&T is a good option. Regardless of which you choose, if you know your needs and your provider can fill them, you can't go wrong.
Cheaper Plans


✔ Incredible Prices
✔ T-Mobile Backed
✔ Pre-Paid Only



Solid Unlimited

✔#1 for Unlimited
✔ Great Coverage
✔ Higher Prices